Our goal at the Safe Zone Project is simple: we want to make your Safe Zone workshops (and all your LGBTQ educational opportunities) more effective, more fun, more dynamic, and more impactful than ever before.
One Safe Zone to Rule them All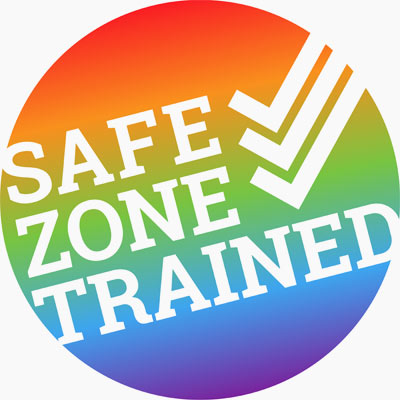 Okay, maybe that's a bit intense, but the general idea stands. Meg & Sam have reviewed a lot of Safe Zone curricula, participated in many different types of workshops, seen the good, the bad, and the ugly, and got together to add some order to the madness.
There are a ton of great programs being conducted around the country (if you've got one, let us know). There are programs that truly turn the space around the participants — their offices, apartments, personal-space bubbles — into safe zones for LGBTQ people.
And then there are some not-so-great workshops out there. At some schools, being "Safe Zone Trained" means having gone through a 30 minute overview on LGBT terminology. That's a bit shy of the level of training we would hope an LGBTQ student should expect if they see a Safe Zone sticker/card on a person's office window and want to chat/need help/trust that person knows what's up.
So we created this website, and our standard curriculum, to foster a sense of consistency — a common understanding of what it means to be "Safe Zone Trained" — for the benefit of students everywhere. If you see our Safe Zone Trained sticker displayed in someone's space, you know what to expect.